Discover more from Eleven Names Project: Open Notebook
Weekly notes on enslaved life in Massachusetts and New England.
Good morning, readers. For those unaware, today is a state holiday in Massachusetts. The third Monday of April is Patriots' Day, commemorating the battles of Lexington, Concord, and Menotomy on April 19, 1775, also known as the commencement of the Revolutionary War. There's a reenactment on Lexington Green, a march up the Battle Road to North Bridge in Concord, and it's also the day of the Boston Marathon and a morning Red Sox Game.
Since George Quintal's landmark Patriots of Color study for the National Parks Service (2001-2004) and the launch of the vital Forgotten Patriots book from the Daughters of the American Revolution (2008), scholars and local historians have been resurfacing the stories of Black New England Revolutionary soldiers and building on work originated by historians like William Cooper Nell in 1855 and Dr. Benjamin Quarles in 1961.
Below is a digest of ENP back-catalog stories chronicling seven Black Revolutionary soldiers1 from Abington, Bridgewater, and Rehoboth/Seekonk. Also included are two bonus entries featuring the work of local colleagues.
An appeal: Most Massachusetts and many New England towns feature Black or native Revolutionary War soldiers in their history.2 We're two years away from the 250th anniversary of the Revolution. This will be the perfect time to recognize overlooked Black and native soldiers from our communities. Sharing this newsletter will gain these soldiers deserved visibility. Would you consider forwarding this email or recommending this post on your social channels?
Please share with your friends, neighbors, historical organizations, and community leaders. - Wayne
This remarkable narrative of Primus Cobus has it all:
A rare and unpublished original document from 1780.

A 16-year-old African American teenager fighting in the Revolution

A young soldier suffering a life-altering wound and witnessing the historic execution of British Maj. John André, and

A disabled veteran fighting for earned benefits.
There is an invisible yet well-documented history of slavery in Abington. So what does the town's first minister have to do with the forgotten woodland gravesite of Brister Gould, a once-enslaved Revolutionary War veteran, and his wife Phebe Wamsley, a descendant of Massasoit?
Primus Slocum of Rehoboth/Seekonk was a veteran of the pioneering 1st Rhode Island Regiment, a Revolutionary War unit known as the "Black regiment" because most enlistees were of African or native backgrounds. Primus and his wife Mary used the Revolution as a catalyst and became key ancestors to contemporary Seaconke Wampanoag people.
Eleven Names Project: Open Notebook is a reader-supported publication that is free for everyone forever. Consider becoming a free or paid subscriber.
Cuffy Rosaria deserves folk hero status; he has the rare distinction of appearing both in a run-away slave ad and Revolutionary War muster rolls. I suspect that Cuffy (or his father) originally lived in a Portuguese colony such as Cabo Verde, Angola, or Brazil, and that's why I choose to spell his unusual last name as 'Rosaria'—it's a nod to local lusophonic communities and it connects their heritage with this nation's founding history.
Open Notebook
from March 14
Last month I wrote about an incredible Revolutionary muster roll that ties together the freedom struggles of Bridgewater's Toby Talbot, Cuff Mitchell/Cuff Ashport, Jupiter Richards, and the aforementioned Cuffy Rosaria.


Bonus: On Plymouth's Parting Ways
Historian
wrote an insightful and superb entry for
about a historic free Black community in Plymouth founded on the Revolutionary service of four Black soldiers.
Cato Howe, Prince Goodwin, Plato Turner, and Quamony Quash all fought in the Revolutionary War. At least three, and possibly all four (Howe's status is somewhat uncertain) were enslaved prior to the Revolution. According to historian Dr. Patrick Brown, local tradition holds that it was widely understood that when the Plymouth Town Meeting voted, in March 1792, to grant 93 acres to any who could clear it within three years near the crossroads, it was in recompense for the service of the four men in the recent war, and that their houses had already been built. - Dr. Benjamin Cronin
Teaser: Marek Bennett on Prince Whipple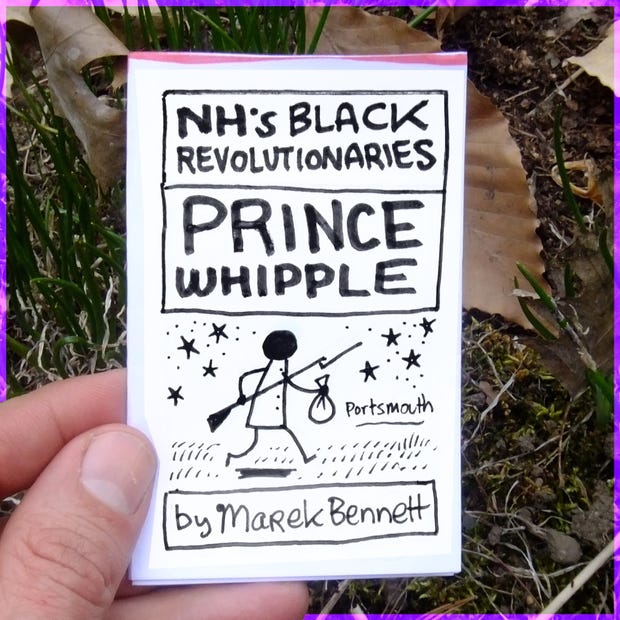 The talented Marek Bennett is a New Hampshire artist and the author of The Civil War Diary of Freeman Colby, Vols. 1-3. He also produces short-form illustrated history pieces like his work on the androgynous Dill Oxford and Black Revolutionary War vet Jerimiah Crocker, as featured in the January 3 edition of Open Notebook.
One of Bennett's latest works is on the remarkable Prince Whipple.3 This work is currently only available to Bennett's Patreon subscribers, but it will become public in the future. I encourage you to venture over to Marek's site and sample his diverse work. And if you're looking to contribute to local visual artists, Marek would love your subscription.
1
I have notes/resources on many other Black Revolutionary War veterans. Contact me if you want to know about Prince Bailey Dunsick and Cuffee Tilden of Hanover; Asher Freeman, Charles Grandison, and Simeon Grandison of Scituate/Norwell; Richard Gunderway of Pembroke; Jupiter Lee of Hardwick/Cambridge; Cato Hanker of Framingham/Medford/Charlestown; Simeon Simons of Griswald, CT; and a whole host of other soldiers throughout New England.
2
Now is an excellent time to open up the DAR's Forgotten Patriots .pdf, Crtl+f search for your town and see if local Black or native residents served in the Revolution. 12 of the 13 colonies are covered in this publication; sorry, Georgia.