Discover more from Eleven Names Project: Open Notebook
Weekly notes on enslaved life in Massachusetts and New England.
Help Open Notebook take big swings
Consider a paid subscription or one-time contribution
Dear friends,
We live in a nickel-and-dime economy. Micro-transactions drive the internet, and we're pestered to subscribe to every. damn. thing. News outlets. Games. Streaming platforms. Patreons. Apps. Cloud storage. GoFundMes. So it goes.
The good news: I'm keeping the Eleven Names Project FREE for everyone forever. In addition to my original features at eleven-names.com, this newsletter is six months old and I have written 30 editions of Open Notebook.
The bad news: this project has overhead and runs at a deficit. To all those who've already subscribed and contributed, THANK YOU. What's more, not only does your contribution keep the lights on—my overhead includes database subscriptions, my WordPress site, software, journal articles, memberships, books, etc—but your support gives me the confidence to take big swings like blind-ordering documents from California.1
The Open Notebook name stems from my desire to keep it as an open-source, real-time, grass-roots public history resource accessible to anyone and everyone, but like The Guardian, WGBH, or WFMU, Open Notebook is an audience-supported cooperative effort. 
I believe my share-everything-immediately-and-for-free style of publishing has tangible value for communities, institutions, students, and individual citizens. Eleven Names readers can access over 125 pages of original and meticulously-annotated writing.
Eleven Names' influence is evident in an array of projects and institutions such as Race & Enslavement at the First Church in Roxbury, Harvard and the Legacy of Slavery, Norwell Historical Society, the Northeast Slavery Records Index, the Dyer Memorial Library & Archives, the North and South River Watershed Association, and the Hanover Historical Society, among others. Let's keep building.
I only need a percentage of my readers to be paid subscribers or contributors. So, as a first step, I aim to gain ten new paid subscriptions or one-time contributions to raise the number of paid supporters to 10% of my total readership.
If you're not ready to support ENP financially, I get it. I wish I could support every podcast, newsletter, artist, and author that informs and entertains me, but I don't. And I can't. And I expect the same is true for you. But if you wish to help the Eleven Names Project take big swings, I'd love your partnership. Please consider a paid subscription or a one-time contribution of any amount that makes sense via PayPal.
- Wayne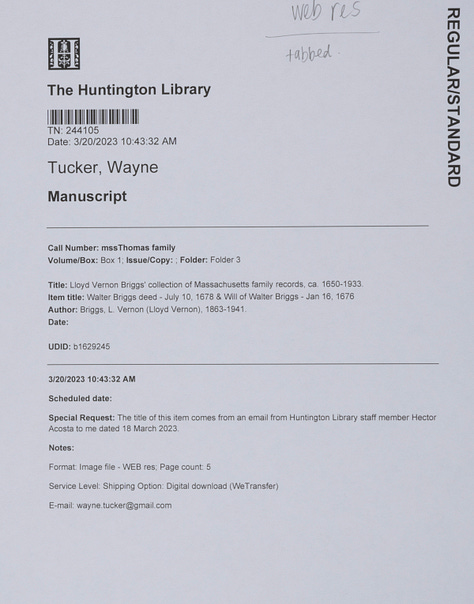 If you read the Mariah Negro series, you'll remember that the primary sources featured in L. Vernon Briggs' work underpinned Mariah's biography. It's wonderful to see these documents reproduced in Briggs' 1938 book, but we must find, examine, and digitize them. Furthermore, we must ensure they are preserved, but we don't know if or where they exist.
I followed a promising lead to L.A.'s Huntington Library, which holds a cache of the late historian's papers. For $50, I ordered images of "Will of Walter Briggs, 1676" and "Walter Briggs Deed, 1678" (seen above). As you notice, Briggs copied documents into his notes and these pages were produced likely between 1880–1938. So they are not originals. 
While disappointing, it was gratifying to stab at my white whale. And I knew these documents might be copies or reproductions, yet I felt confident taking this risk knowing that subscribers had my back. So I share these documents now in the spirit of being an open notebook, for transparency to my subscribers, and perhaps it will inspire readers to dive deep into the Vernon Briggs papers and they'll find something I didn't. (Please let me know if you do!)